on occasion, there will be times when, i'll just say it, i feel like im better than certain people. there. its out there. particularly the unkempt, beer soaked, over-sexed savages i attend university with. these moments of perceived superiority never last long. i enjoy self deprecating waaaay too much to ever actually maintain and nurture an ego. but the fact remains that i do still like to imagine that i am at least mildly intelligent. but ever so often, i'll have a brief moment of stupidity that will send my little bit of pride into a downward spiral, plummeting back down to earth faster than a frat boy's dignity. one of such moments occured today. thats right: Today, I did something stupid.
disclaimer: if you're expecting a story about some wild college escapade, leave now, or prepare yourself for a tale about as climactic as internal vomiting. being a female college freshman, there's a large range of fun stupid things that i could be doing; one could argue that i SHOULD be doing. good ole' "all American girl" rites of passage like, passing out at a frat house or urinating in public or declaring myself a lesbian. sorry to disappoint, but im simply not that.......interesting?
no. my random act of stupidity involved a car, a hot summer day, and a nap that almost ended my life; 3 ingredients you're probably more accustomed to seeing in stories that start with "negligent mother" and end with "fried baby." (no more baby jokes. last one, i promise) but not this time. no. this story involves a 19 year old girl waiting in a car for her sister, who was visiting a friend; her sister who left her the keys to turn the car on to have the benefit of the ac; and a girl who, instead of leaving the car on, to, you know, stay alive, decided to conserve gas and turn the car off......and proceed to take a nap......for 2 hours. i dont regret the nap at all. in fact, it was probably one of the best id ever taken (slowly roasting your brain cells is surprisingly quite nice). i suppose if you equated this to your typical female's dumb college moment, this would be "the night before" montage; when everything is rosy and i can do no wrong.
adorable
needless to say though, i awoke light headed, nauseous, and dizzy, and with an overwhelming feeling that i had done something very bad. we'll call
this
moment "the morning after."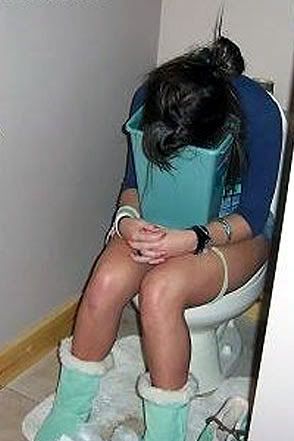 still, kinnndddd of adorable
i guess my point in all of this is that lately, all of my random acts of stupidity coupled with those inevitable bouts of
SIDS
have been making me question my common sense. i feel like im living in a Miss Li song:
Deep down I know I'm not a stupid girl,
but still I make all those mistakes.
I know there's a lot of stupid girls in this world,
but i dont want to be like them.
God! I cant believe i'm quoting
that
id hate to be one of those book smart people who have no common sense and no wit and personality of their own. The ones who could quite efficiently teach the art, music and literature of others, but have themselves produced nothing of significance. this was only recently brought to my attention when talking with a friend over the phone. i was telling her about how i've been considering majoring in art history. she, a film major (sorry IndieDay) then proceeded to go on a mini-rant about how she wanted to create her own art, and not waste time studying that of others (normally, my opinions and goals aren't so easily shaken by the words of others; but this particular person seems to have that power over me). i was mortified. i felt like i was in a game of mental mortal kombat, and she had just performed a perfectly executed torso rip. there was nothing left of me except the bloodied entrails of my broken dream.
forward/back/circle. you're welcome
i guess what im trying to convey in this mentally diarrhetic explosion of a post is that, stupid little things, like, giving myself heat stroke, or, the critical words of a friend, or, at times not being able to form coherent sentences without having words crash together in a massive train wreck of random syllables and sounds.......these stupid little things have been making me question my competence a lot lately. perhaps rightfully so; perhaps not. but whatever the case, i see my newfound uncertainty refreshing. maybe its good for me. maybe when i step foot on campus again in the fall, i won't be so judgmental of my peers. I'll be able to realize that they have all the same doubts and concerns that i do; that they too are just trying to navigate their way through this weird stage in life as best they can. perhaps i'll be able to forgive their mistakes, and see them in a new light.....
but not really, though